---
This post contains affiliate links. All opinions are my own
---
Nothing like a global pandemic and self-isolation to bring me back to the blog. It's been a little over two years since my last post (found here) and all sorts have things have happened between then and now … one of them being the COVID-19 pandemic.
I'm privileged enough to have a stable job that accommodates me working safely from home, which is where I've been for the past (almost) two months. Since I can't go out and partake in all of my normal extracurricular activities, I've picked up a few new pastimes, read a few books and ticked off several Netflix shows.
So in a feeble attempt to spread some positivity, I've decided to round up all of my recommendations on hobbies, books and shows to keep yourself entertained and sane while in self-isolation. And of course, thank you to all the essential workers who aren't able to stay at home. We appreciate everything you do!
---
What I've Been Doing
---
I'm generally a pretty active person. I like to have places to go, people to see and things to do. Since that's largely come to a screeching halt, I've had to find new ways to stay engaged at home. This has mainly come in the form of ALL. THE. CRAFTS.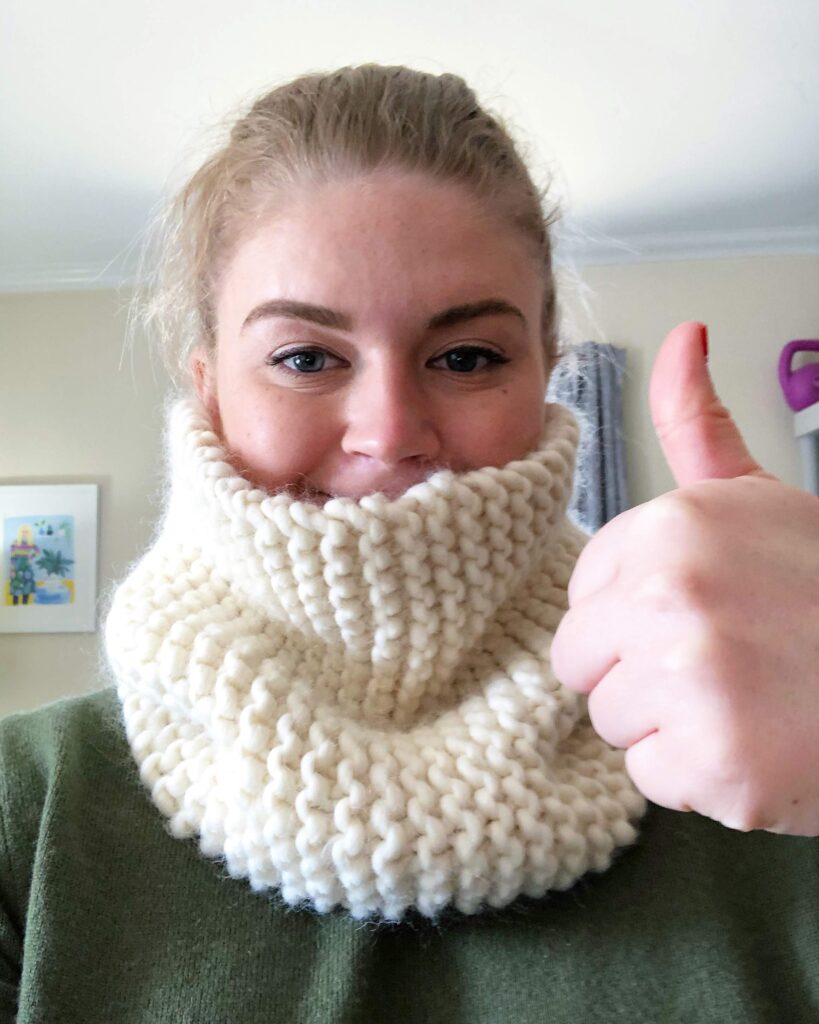 Even though I've never knit (nor have I ever had the interest in knitting) before this, I scooped up the Shit That I Knit quarantine kit and knit myself a cowl (as seen in the lovely above selfie). Then I knit myself a scarf with their second quarantine kit …. and then I knit myself a Wool and the Gang hat. I haven't stopped knitting and I'm working my way through several Christmas gifts right now.
My crafting didn't stop there. I also made all the Sailormade WhatKnot necklaces and am about to start work on their decoupage oyster shell kit. Both kits are currently sold out, but they were super fun and I encourage you keep an eye out for when they come back in stock.
I also broke out of my craft routine (temporarily) this past weekend to try something I've never tried before – a virtual AirBnB experience. Two of my friends and I toured Prague with a plague doctor. 100% random, but 100% would recommend. The tour guide was knowledgeable, engaging and funny. We love you, David! I am absolutely going to try out a few different experiences — it's a great way to "travel" while staying safe at home.
---
What I've Been Reading
---
I'm not sure if I'm alone in this, but I've actually been reading less in self-isolation than before. I used to read on my commute, which was two hours total each day. Now I fill my time sleeping in the extra hour, knitting and taking (safe) walks around my neighborhood.
Despite that, I've still made my way through a few books while at home. I'm currently reading In the Shadow of the Valley and will report back once I'm done. I read The Power (would recommend); Harry Potter and the Half Blood Prince as well as Harry Potter and the Deathly Hallows (obviously recommend); Modern Love (would recommend); What Happens in Paradise (would recommend if you're into chic lit); Then She Was Gone (meh, only read if you're super bored); The Forgotten Hours (would recommend) and Then You Loved Me (would not recommend).
---
What I've Been Watching
---
On Hulu, I watched Little Fires Everywhere. While I didn't like the book when I read it years ago, I really enjoyed the show, even though I hate basically every character.
If you're more of a Youtuber watcher, I highly recommend The Try Guys, Flying the Nest, The Anna Edit and Allison Anderson.
Last but not least, Netflix. When I want something on the background I can zone out, I watch Gilmore Girls. Team Emily/Paris — Lorelai and Rory are evil villains. Obviously I watched and LOVED Outer Banks for all it's teen glory. I would also recommend Circle of Books and The Stranger. A pretty diverse option of Netflix binges, if you ask me.
So there you have it folks — what I've been up to in self-isolation. If you have any recommendations on books, shows, crafts, recipe or literally anything else, please pass them along. Inquiring minds want to know!