Happy Friday, loves! If you're located in the northeast, I hope you're surviving the #bombcyclone that hit yesterday. If you're like me, you didn't leave the comfort of your own four walls. It seems all those Instagramers braved the snow and wind for some bomb pictures, but I couldn't be bothered.
Anywho … weather discussion aside, let's chat Boston bloggers, shall we? I met Mackenzie about a year ago (I think) and have had the good fortune to spend time with her at a few events sense. Mackenzie is sweet, funny and has the most amazing hair! I wanted to get to know Mackenzie a bit better, so I figured you should too. Enjoy!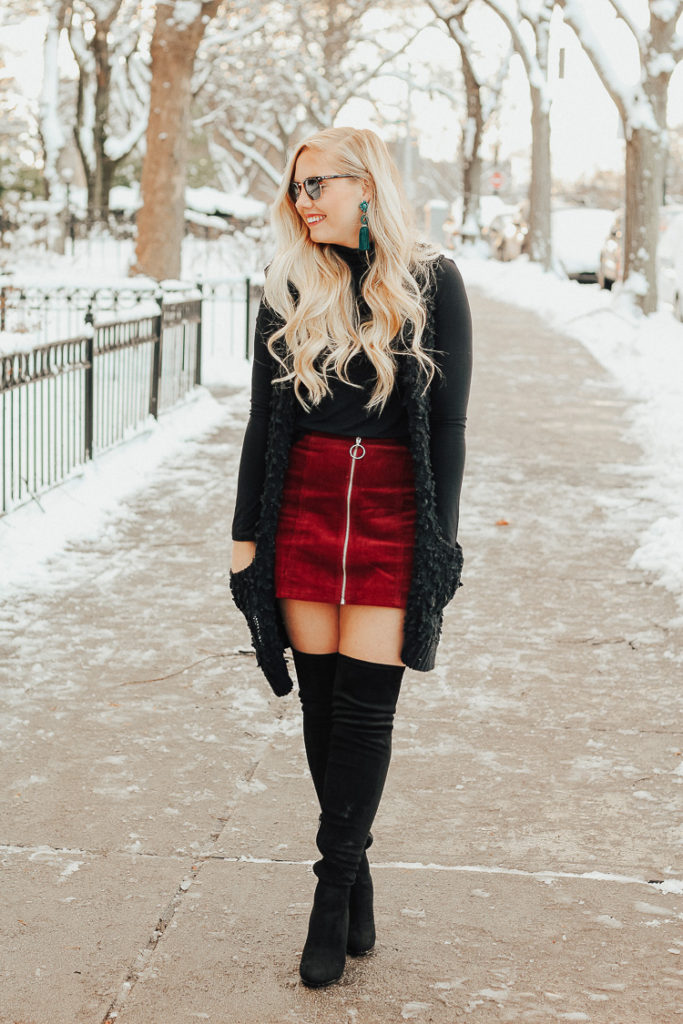 ---

HOW LONG HAVE YOU BEEN BLOGGING AND WHAT MADE YOU START?

---
I've been blogging for almost two years! I launched my blog in March of 2016.
I'd been wanting to create a blog for years before I actually started planning my blog for real. I guess I've always been someone who has felt the need to have their voice heard. My mom likes to tell stories about how even when I was a toddler, I would pick up my toy phone… (old school cord and all), talk a bunch of gibberish, then slam down the toy phone. I guess you could say I'm a talker! That being said, growing up, especially through my middle school years, I was extremely shy. I resorted to social pages like Xanga page (anyone remember those or am I dating myself?), LiveJournal, and Myspace because I felt I could be myself through writing and connecting with others online.
In college I used to get a lot of questions and comments about my hair, which is hilarious to me because I had the worst hair through high school and half of college. I didn't even own a flat iron or curling iron until I think, senior year of high school. I was very inspired by Amber Fillerup Clark of Barefoot Blonde and I think I've actually read her blog from almost the very beginning. I thought to myself, she's just a regular girl like I am… I could do this too! After college, I found myself with a ton of spare time that I didn't know what to do with and hence… Brunch on Sunday was born!
---

TELL US A LITTLE BIT ABOUT BRUNCH ON SUNDAY

---
Brunch on Sunday is a Boston-based fashion and lifestyle blog catered to the female 20-something. I love sharing about style, hair and beauty, travel, and my favorite spots in and around Boston! Many people ask about the name of my blog and this was something I struggled to come up with when creating my blog. I wanted to somehow make my little corner of the internet feel like you're with your best girlfriends. I love those Sunday mornings (let's be honest… afternoons) when you're reunited with your girlfriends and can laugh at brunch over a mimosa, chat about something crazy you did the night before, your favorite new pair of boots, or what's going on in your life. More than anything I wanted Brunch on Sunday to be a space where my readers and myself feel like we're all girlfriends chatting over brunch!
---

WHO IS YOUR BLOGGER CRUSH?

---
I'm obsessed with Marianna Hewitt of Life With Me. Marianna is Los Angeles based but she has this really effortless style that to me, is a mix between New York City street style and laid back, California style. She makes everything look effortless and I'm obsessed with her YouTube channel!
---

WHAT'S YOUR FAVORITE POST YOU'VE EVER WRITTEN?

---
I'd have to say my post about visiting a genetic counselor was my favorite post I've ever written. My mom battled breast cancer when I was a freshman in college and soon after found out that her sister (my aunt) had it as well (both are fine and healthy today). I knew that moving forward, I most likely had a higher risk of breast cancer. I finally made the decision (after so many doctors told me I didn't need to) to visit a genetic counselor and make a plan for myself. This was one of the most personal posts I've ever written and something I was nervous about sharing, however the response was so great!
---

WHAT IS YOUR DREAM BRAND TO COLLABORATE WITH?

---
Ohhh, this is so hard because I have so many goals and dreams for myself. I would love to work with L.L. Bean because I'm a Maine girl at heart even though I live in Boston now. I would also love to work with Oribe or Kérastase because I love their hair products!
---