Hard boiled eggs – you either love them or you hate them. I love them, which I assume you gathered since I'm writing a post on five ways to serve hard boiled eggs. But just in case you couldn't figure that out, now you know.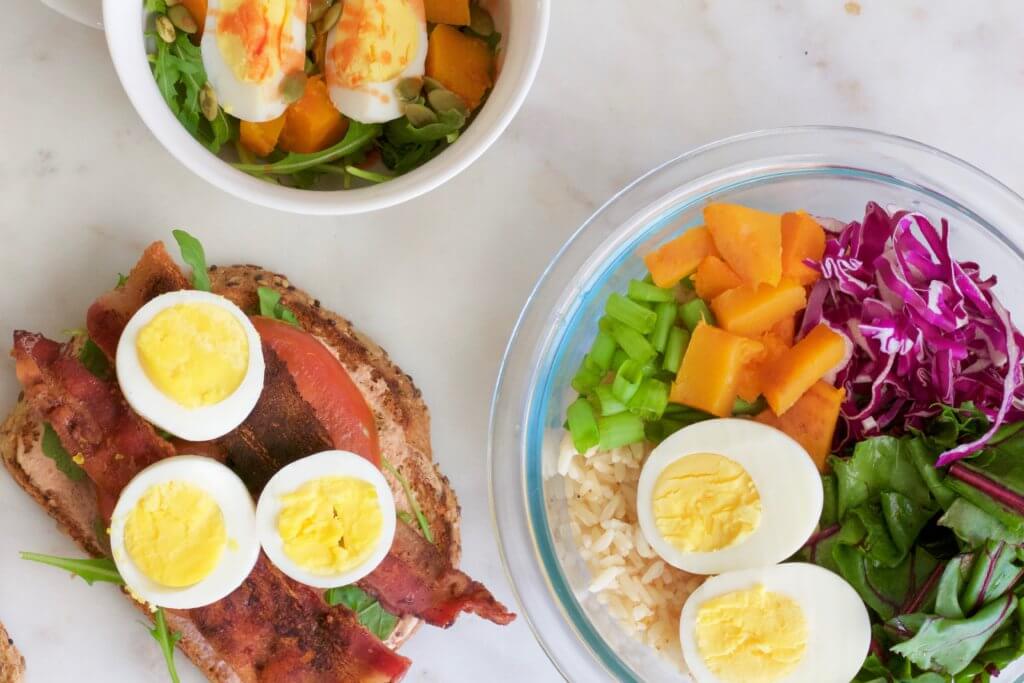 I love hard boiled eggs for a few reasons. First, they're super easy to make. Second, they're easy to store and eat quickly on the run or bring with you to work. And third, I think they're delicious. For the past few weeks I've been cooking up a batch of hard boiled eggs on Sunday nights and bringing them with me to work for the week. I either have them with my breakfast or as a mid-morning snack to tide me over until lunch.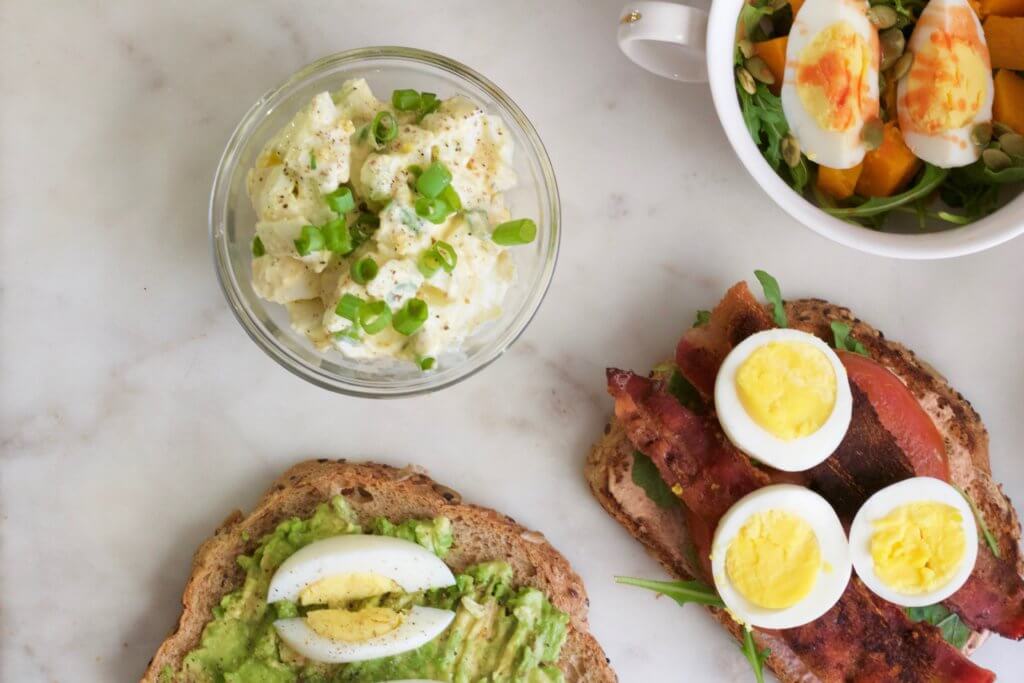 And while I love a classic hard boiled egg with salt and pepper, I've been trying to get more creative with how I serve them up to keep things interesting. Here are my current top five ways to prepare and serve hard boiled eggs.
---

1. Avocado Toast with Hard Boiled Eggs

---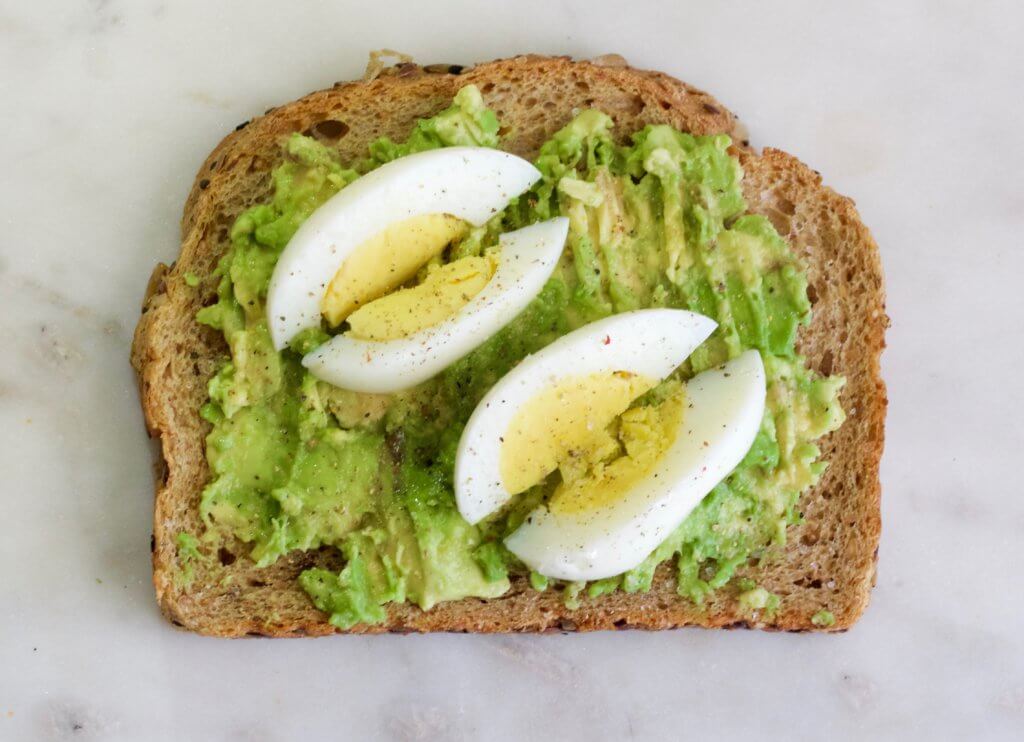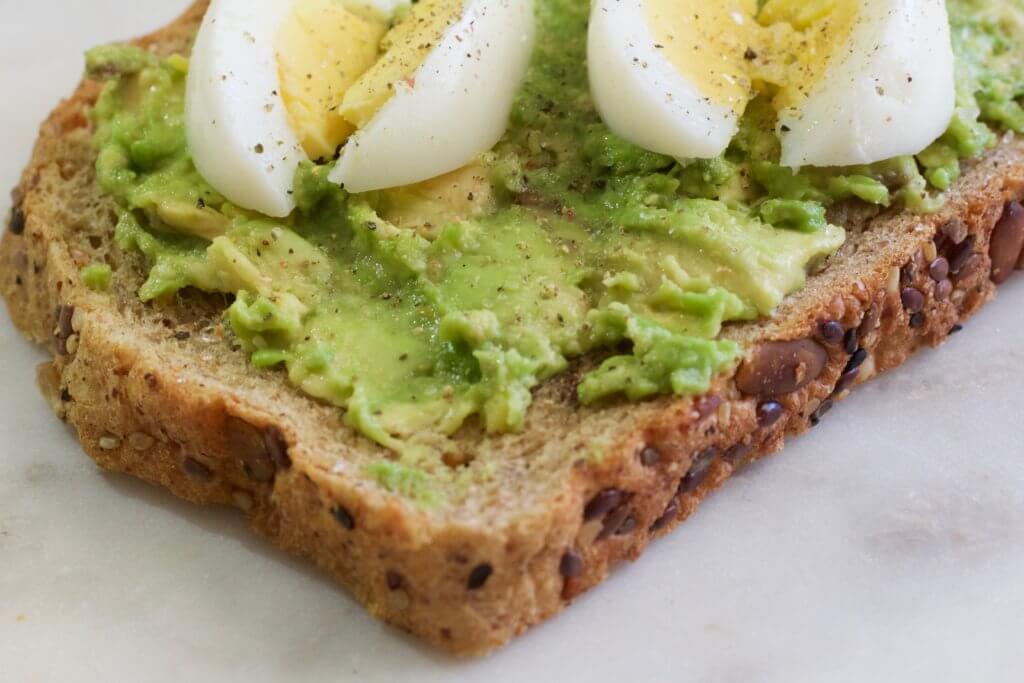 Ingredients:
1 piece of bread – whatever you prefer
Half an avacado
1 hard boiled egg
Salt and pepper to taste
Putting it together:
This "recipe" is a pretty basic one … if you can even call it a recipe. Here's how you do it. You take a piece of bread, toast it right up. Smash up a half an avocado and spread it on. Slice up your hard boiled egg and artistically place it on top. Sprinkle with any seasonings you might like and voila, you are done!
---

2. Dressed Up B(e)LT

---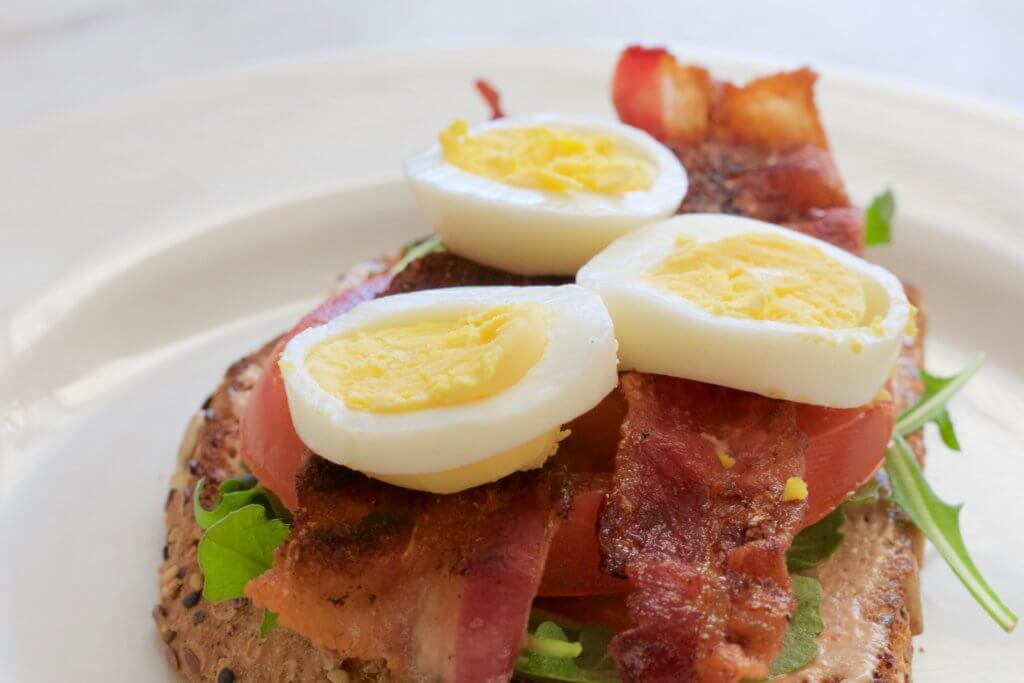 Ingredients:
1-2 pieces of bread – whatever you prefer
1 tsp Sriracha
1 tsp plain greek yogurt
Tomato
2 slices of bacon
1 hard boiled egg
Put it together:
There is nothing quite like a classic BLT. However, I never order them because I can't shake the thought that they have roughly zero nutritional value. I mean, how do you stay full after a BLT? That's why I decided to create a dressed up, jazzy B(e)LT. I showed it here without a top piece of toast because #gramworthy, but you could always add the second piece.
I started by spreading my Sriracha spread (equal parts plain greek yogurt and Sriracha) on the toast and topping with arugula instead of iceberg lettuce. It doesn't have the same crunch, but I prefer the flavor and it's much more nutritionally dense. From there, I just layered on the tomato, bacon and sliced hard boiled eggs. Easy as pie!
---

3. Egg Salad

---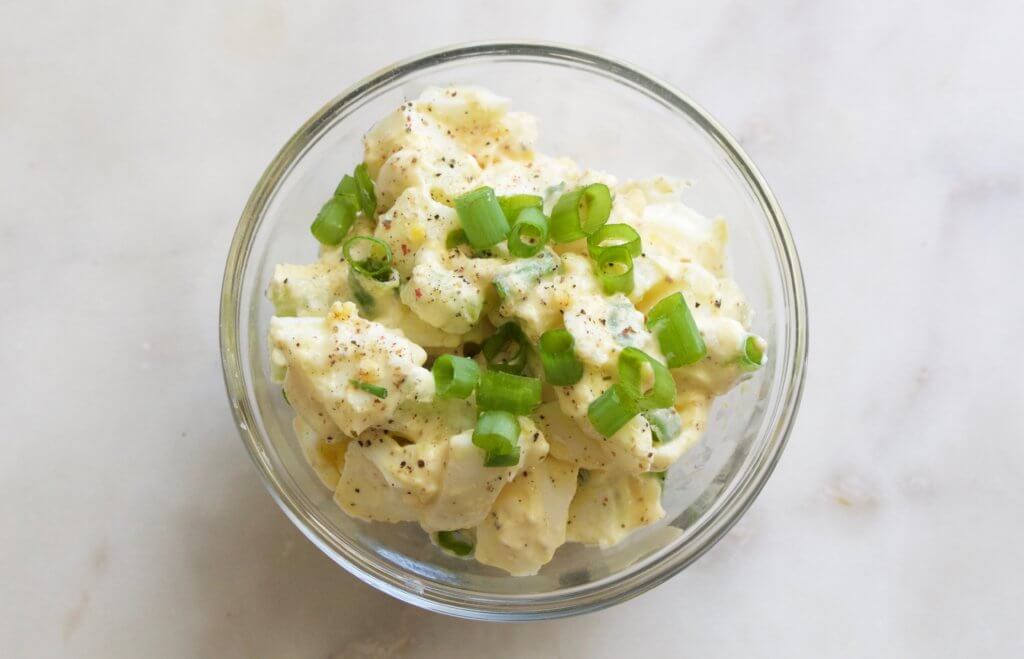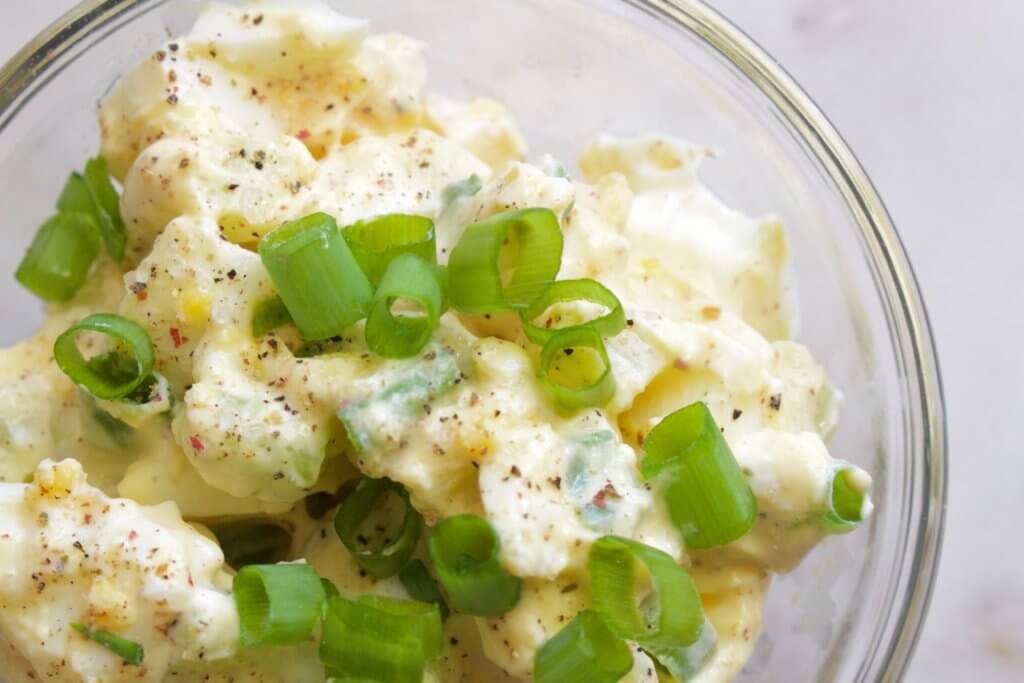 Ingredients:
1 Tbsp plain greek yogurt
1 Tbsp spicy mustard
A handful of chopped green onion
2 hard boiled eggs
Salt and pepper to taste
Put it together:
Roughly chop the hard boiled eggs into small cubes. Mix together the greek yogurt and spicy mustard and add to the chopped eggs. Mix in green onions and top with salt and pepper to taste. You can turn this into a sandwich, lettuce cups and just eat it on your own. The world is your oyster.
---

4. Rice Bowl with Hard Boiled Eggs

---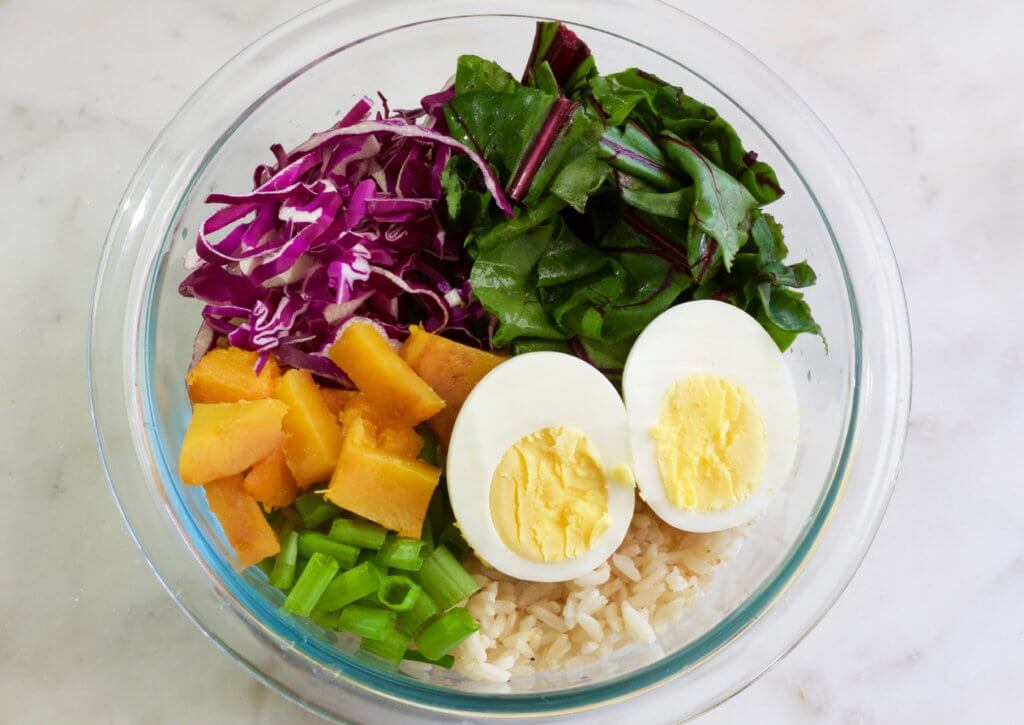 Ingredients:
1 cup of brown rice, steamed
1 cup of greens – I used beet greens
1/2 cup of cubed butternut squash, steamed
A handful of chopped green onion
1 hard boiled egg
A drizzle of Sriracha
Put it together: 
Place your steamed rice in a bowl and mix in with your veggies. Top with your hard boiled egg and drizzle on Sriracha or any other dressing of your choice. If you haven't picked up on it yet, I really love Sriracha.
---

5. Arugula and Butternut Squash Salad

---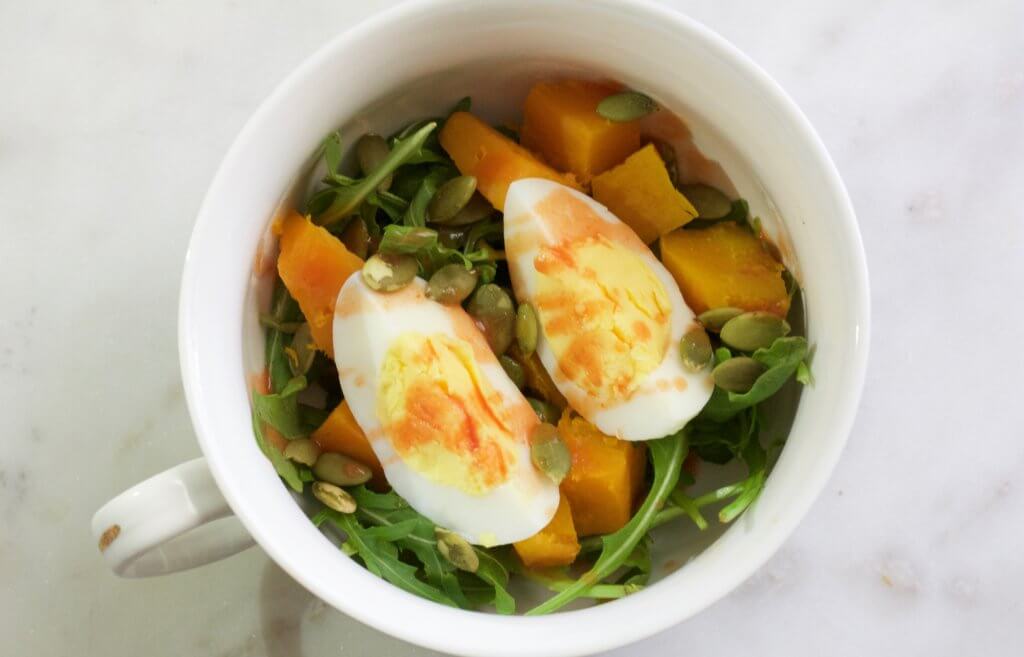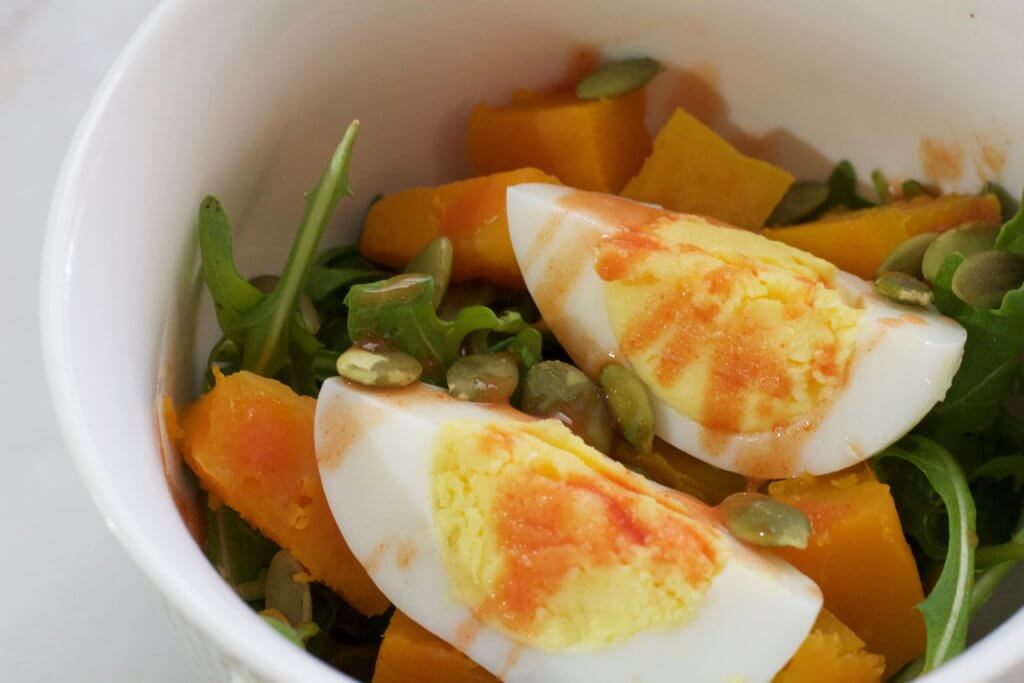 Ingredients:
1/2 cup of arugula
 1/3 cup of cooked butternut squash, cubed
1/4 raw pumpkin seeds
1 hard boiled egg
Drizzle of dressing of your choice
Put it together: 
I think this is pretty self explanatory, but juuuuuust in case. Start with your arugula – put it in a bowl (or an oversized teacup like I did here). Then top with your butternut squash, pumpkin seeds and hard boiled egg. You could drizzle with a salad dressing of your preference, but I drizzled with hot sauce (my favorite is Cholula). The heat of the sauce pairs nicely with the sweetness of the butternut squash.
---