When I travel, I only bring carry-on bags. No checked baggage for me, please and thank you. But every once in a while I'll be forced to check my bag if there is no overhead luggage space left. When that happens, I make sure I always have these eight in-flight necessities.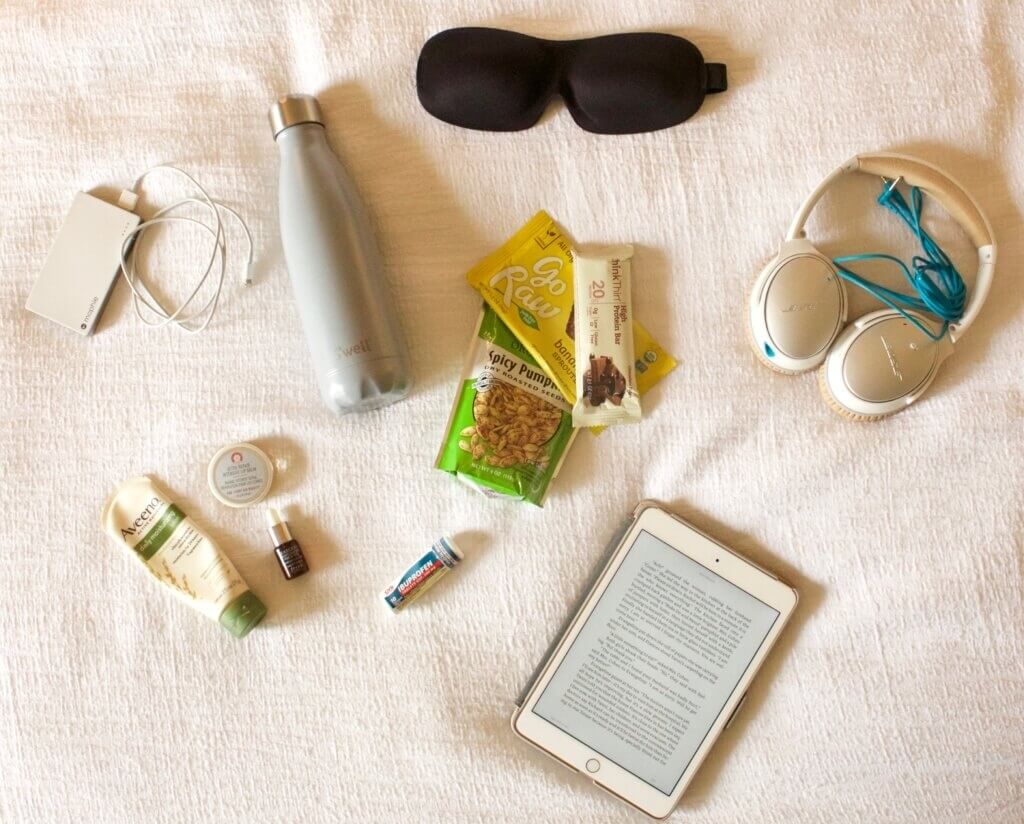 Before you ask, this list doesn't include the absolutely necessities that everyone brings (i.e. wallet, phone, boarding pass), because those are a given and I don't think you need me to tell you about them. Instead, this list is non-necessities that I always make sure to have with me. Also, these are in no particular order.
---

1. iPad

---
Most planes these days have TVs in the seats, but even still I always bring my iPad. Before take off, during commercials or when the TVs are non-existent or broken, it's nice to have a backup form of entertainment. Plus, you never know if you'll be delayed or stuck in an airport for hours on end.
---

2. Headphones

---
As far as I'm concerned, headphones are an absolute MUST on an airplane. I love my Bose noise-cancelling headphones, but they are pretty darned expensive. If you don't feel like shelling out $300 for a pair of headphones, any normal headphones will do. As long as you have a way to listen to the TV/your music and drown out the rest of the people around you.
---

3. Water bottle

---
Sure, airlines will serve you water on your flight, but they basically give you a thimble-size cup. I bring an empty water bottle with me to the airport and fill up at the water fountain before my flight. That way I can stay hydrated during my flight and don't have to wait for my thimble of water.
---

4. Healthy snacks

---
Considering a single pretzel costs about $100 at airports/on airplanes, I always pack some snacks for my trip. And because it can be hard to be healthy on trips, I try to pack healthy snacks. Some of my favorites are nuts/seeds, thinkThin bars and Go Raw bars.
---

5. Moisturizing products

---
Flying can make your skin super, super dry. And since I'm obsessed with skin care, I make sure to bring all of the moisturizing products on board. For my hands I love Aveeno, for my lips I love First Aid Beauty and for my face I love Fresh Seaberry Face Oil.
---

6. Eye mask

---
For red-eye flights, an eye mask is a must. I can slip it on before flight takes off and the lights dim and be asleep before were air born. Plus, it's a life saver when your row mates have their reading lights on all. flight. long.
---

7. Portable phone charger

---
This charger works for my phone and iPad, so none of my technology will die mid-flight. I think this one is pretty self explanatory, so I'll stop rambling now.
---

8. Ibuprofen

---
Another self-explanatory one. Nothing is worse than being stuck mid-flight with some sort of ache and pain that you can't cure. Whether you're hung over, have sore muscles or can't get over a headache, Ibuprofen has you covered.
---
Tell me: What do you take with you on the plane?
---