Hello my friends and welcome to December. Christmas is just a few short weeks away … in case you missed the memo. To celebrate, let's take a look at my Boston gift guide, shall we?I've rounded up some of favorite Boston brands and their magnificent goods.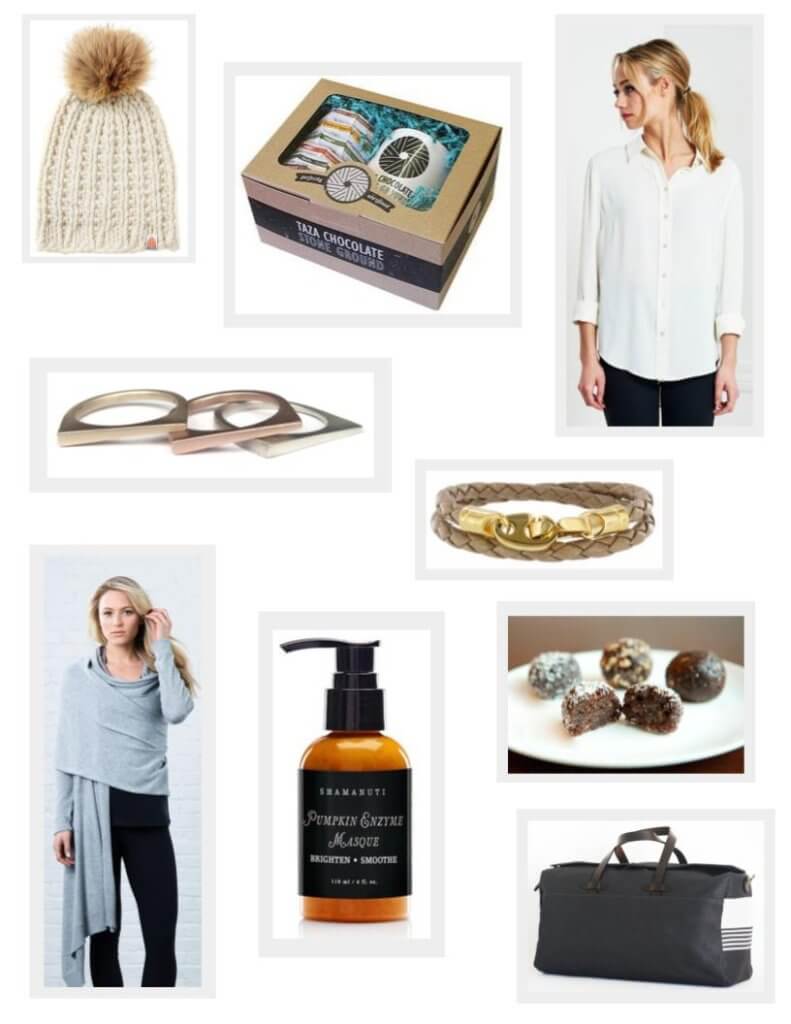 ---

Shit That I Knit Ladd Beanie

---
What's more winter than a pom-pom-beanie?! Nothing, not even Santa Claus himself. I have my eye on this Shit That I Knit beanie because it's adorable and I love the brands name. Someone get it for me, ok?
---

Taza Winter Warmer Gift Box

---
You can't go wrong with some artisanal hot chocolate come December. This Taza Winter Warmer Gift Box would make the perfect stocking stuffer, yankee swap gift or a special treat to yourself. Anything goes during the holidays!
---

Brass Button Down Blouse

---
Staple wardrobe pieces are always in style and The Button Down Blouse from Brass is no exception. The ivory shade will go with everything you own and the quality of Brass items are always top-notch. Plus, I met one of the Brass cofounders once and she was super sweet.
---

E.Scott Originals Asymmetric Stack Rings

---
Stacking rings are my favorite. You can tailor the look to the occasion and there are so many mix-and-match options to chose from. These asymmetric stack rings from E.Scott Originals are the perfect gift for the Boston-loving jewelry addict in your life.
---

Sailormade Endeavour Leather Bracelet

---
The nautical lover in your life will fall for this leather Sailormade bracelet. It's the perfect mix of New England, nautical and urban in one bracelet.It's understated and sophisticated so it can blend in with anyone's style while still standing out on its own. Moral of the story: buy it.
---

Crane & Lion Wrap Sweater

---
Anyone – the exercise buff, lounge addict and constant traveler – could absolutely use this Crane & Lion wrap sweater. It's cozy yet stylish, so you'll look super chic even whether you're sweating buckets or being a coach potato and binging on Netflix.
---

Shamanuti Pumpkin Enzyme Masque

---
Basic bitches and beauty addicts rejoice — you can now combine two of your favorite things. Meet the Shamanuti Pumpkin Enzyme Masque. This mask is filled with natural antioxidants, enzymes and over 100 beneficial nutrients that will leave your complexion bright and radiant.
---

Long Wharf Supply Ipswich Weekender

---
Going for a weekend trip in 2017? Going for a weekend trip in New England in 2017? Then it's time you get your grubby little hands on the Long Wharf Supply Ipswich Weekender. It's equal parts functional and fabulous, which is everything you need for a weekend away.
---

PMS Bites Variety Pack

---
You might have seen my post earlier this year about PMS Bites – they are absolutely delicious and actually good for you. GASP! They're perfect for any woman in your life who enjoys sweet treats and has to deal with her period. Plus, a variety pack of six bites is only $9.99 so it will be quite easy on your wallet.
---
Tell me: What local Boston brands are on your holiday wish list?
---