---
Some of the products and/or services mentioned were complimentary
---
This weekend, my boyfriend and I headed in town for an indulgent lunch at Boston Burger Company. I've never been but have heard amazing things, so I was excited to test it for myself and treat myself after a semi-successful healthy week.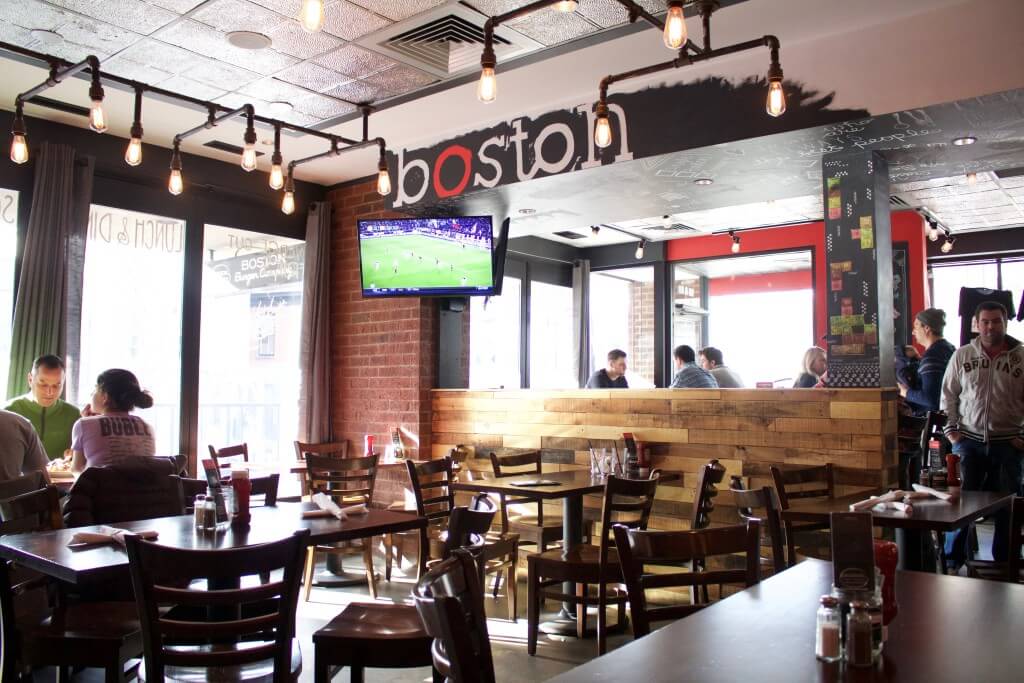 To make sure I had space to eat everything I could get my hands on, I skimped on breakfast. Priorities, am I right? I knew going in to this lunch that I'd want fries of some sort, obviously, but had no idea what burger I would want. Well, the menu didn't help me narrow my choices. It's about a thousand feet long. Ok, so that's obviously an exaggeration, but it is a hefty menu with more options than I could dream up.
We settled on bacon cheese fries to split, the hot mess for my beau and the buffalo burger for myself. The menu stated that the fries are wedge cut, but they're closer to whole potatoes. WHICH IS AMAZING. What could be better than giant chunks of potatoes fried and covered in melted cheese and bacon. Not much else, I'll tell you that. They were easily my favorite part of the meal.
Having fully stuffed ourselves with the fries, we mentally prepared for our half-pound burgers. I don't know about you, but that's a plenty hefty burger for me. The burgers come with a side of chips and your choice of baked beans or cole slaw. Having selected beans for myself I forced suggested that my boyfriend get the cole slaw. When I saw our plates arrive, I realized that I ordered with my eyes and not my stomach. There was no way I'd come close to finishing my meal.
And I didn't. I could only inhale half of my burger, a few chips and a couple of bites of baked beans. But it wasn't for lack of trying or deliciousness. We left full and happy, ready to take a nap for the rest of our lives the afternoon. On top of the food being tasty, the staff was very friendly and accommodating.
Boston Burger Company is a great place to meet up with friends for a filling meal or to grab some drinks (alcoholic root bear float, anyone). I wouldn't recommend going on a first date here – you're bound to eat too much and get sauce all over your face. Or maybe that's just me …
---
Tell me: What's your favorite burger joint?
---