---
My meal was provided free of charge courtesy of Aceituna Grill. All opinions are my own
---
People, people, people. Let's chat food for a moment, shall we? The other weekend I had the distinct pleasure of stopping by Aceituna Grill in Kendall Square with Agnes for lunch. We met with Gina and AJ, two of the owners who also happen to be mother and son. It was such a pleasure to meet the family founders, hear the Aceituna story from them directly and take a tour of the space before tucking into our meals.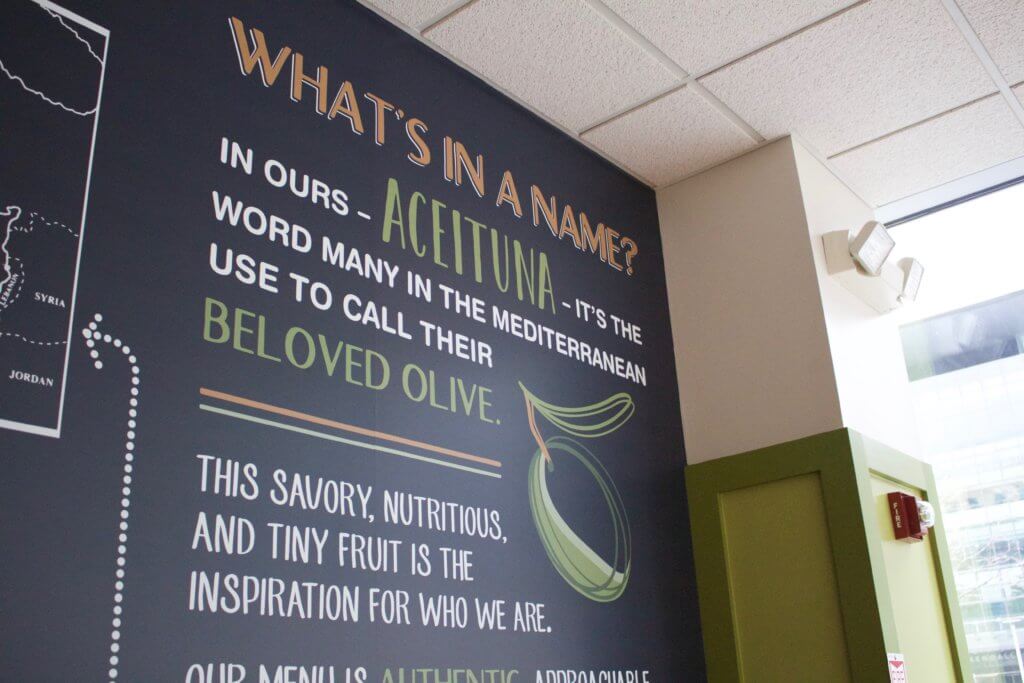 Some bits and bobs about Aceituna Grill … First off, it's pronounced "ah•say•tuna" and no, they don't serve any tuna. Aceituna means Olive in many Mediterranean language, and the tiny fruit is central to many of their dishes. Gina and her husband founded Aceituna 13 years ago and they've been going strong ever since. The team will be expanding and opening a second location in the Seaport soon.
Everything is fresh, fast and the meats are never processed. Everything outside of the pita and baklava are baked on site (those two things are shipped in from Canada a few times a week). Three different types of shawarma are at the core of their menu – chicken, spicy chicken and beef & lamb. Plus, there is a vegetarian and gluten-free falafel if that floats your boat. All of these four offerings can be served over a bed of rice, on a salad or in a pita rollup. The rice and salad come with two sides, but you can always add more. Trust me, you'll want to add all of them. You can check the full menu here.
Agnes and I had a serious feast. She had a spicy chicken rice plate and I started with a spicy chicken rollup. Gina ordered mine for me and it was amazing, so I need to ask her to tell me which toppings she added. Then we moved on to falafel over tabbouleh, fries, greek salad, fattoush, baba ganoush and moussaka. Seriously, everything was so amazing. Even the falafel … and I don't even like falafel. Everything was fresh, flavorful and filling. My top three dishes were my spicy chicken rollup, fattoush and baba ganoush.
And if that wasn't enough, we also indulged in a serving of baklava and osmalieh, a housemade traditional ashta cream pastry topped with shredded filo and simple syrup. Both are absolutely to-die-for.
If you hadn't figured it out yet, I seriously loved everything and have been craving it every day since our visit. I'm not often in Kendall Square but work near Seaport, so I'm anxiously awaiting that location's opening. If someone wanted to bring me a plate of food each day, that would be greatly appreciated ….
---
Tell me: What's your favorite Mediterranean dish?
---