After our two-hour road trip up the Croatian coast, we arrived in Split. We could tell from the highway that Split was going to be a completely different experience than Dubrovnik. We knew that it was a much bigger city, but we weren't prepared for just how tall some of the buildings would be.
---
June 28th – 2PM – Midnight
---
After driving around in circles to find a parking spot, we settled in to our AirBnB and walked down to the old city right away. We were only a seven-minute walk from the old city, much closer (and flatter) than our walk in Dubrovnik, so we were able to fit in a bit more on our first day than anticipated. Just like in Dubrovnik, our first stop was the old city. Unlike Dubrovnik, Split's old city is actually a collection of Roman ruins, which we were absolutely not expecting. To make things even more mind-blowing, people still live in some of these buildings that were built during the Roman empire. I am not good at history, so if you want to hear more about that, you can check out good ole Wikipedia.
After weaving in and out of alleys and exploring the rooms and market under (yes,under) the city, we headed out to Riva – the promenade. We were first taken aback back its beauty, followed quickly by the overwhelming smell of sulphur. Apparently the smell has been around as long as the city, but that didn't help us to enjoy it any more. If you tried really hard, you could find sulphur-free pockets of air, but we eventually gave up and moved back to the heart of the city.
We then headed back to our room for a nap and to freshen up before researching our dinner options. Haven completely struck out in Dubrovnik, we wanted to scrounge up at least one decent meal in Split. Thanks to Tripadvisor, we settled on Uje Oil Bar. It had a pretty good rating, wasn't overly expensive and boasted a tasty menu, so we were sold. My manpanion had lamb skewers and I had marinated white fish, both of which were absolutely delicious. The service was mediocre, but the meal would justify a second (or more) visit.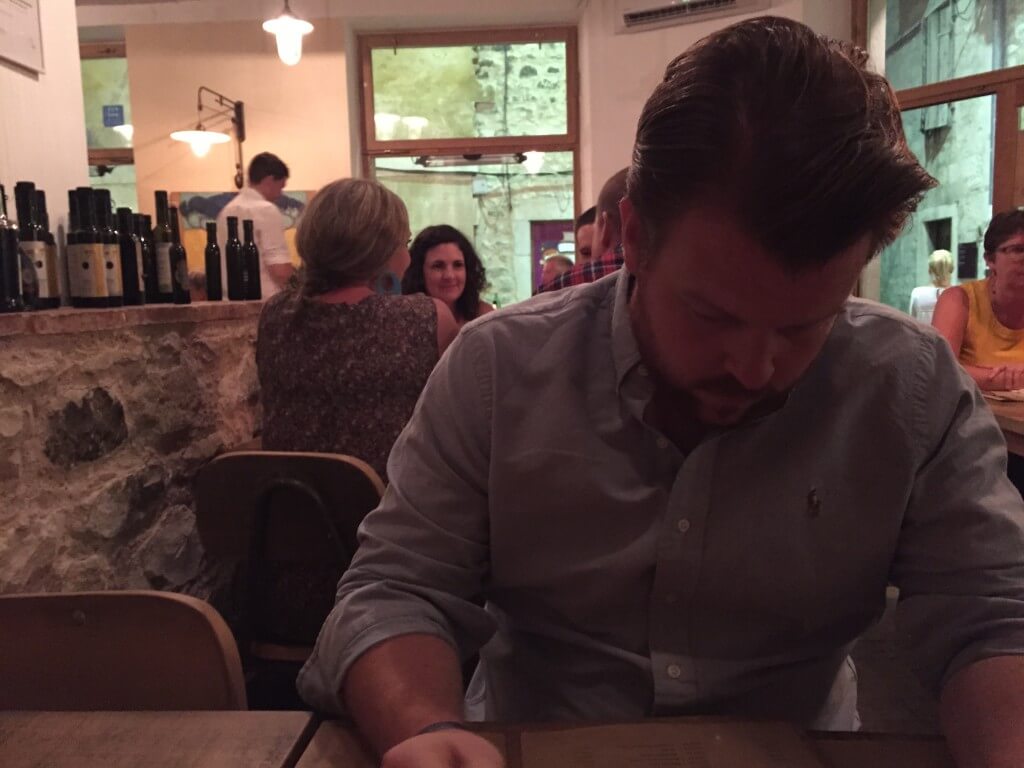 Filled up on food, we decided to try our luck at a bar my side piece found on Tripadvisor as well – To Je To. I had been told by a coworker that Split is a very big nightlight destination for those vacationing in the country. We're a not-super-clubby couple, so we weren't on the prowl for a rave. Instead, we wanted something a bit more low key where we could enjoy delicious drinks without the threat of being drugged or ODing on techno beats. Not asking for too much, I don't think.
To Je To was perfect. They carry a bunch of craft beers and local wines/liquors, plus there was live music being played and everyone was friendly. Spoiler: we went back the second night as well and found out that the owner is actually originally from Flint, Michigan. Talk about a small world! Sufficiently buzzed, we made our way back to the apartment for a good's night sleep to prepare for the day ahead.
---
June 29th – All Day
---
We slept in a weeeeeeeeee bit later than we planned to, so the day started around 10AM. Woops. #vacationmode
Our AirBnB host woke us up with breakfast in bed, which was unexpected and nice. It wasn't anything glamorous – just toast, cheese and some meat – but it was nice to not have to think about food when we were still half asleep.
After finally getting up and out of the apartment, we headed back to the promenade to walk along the water towards Bacvice beach for a day of swimming and hanging out in the sun. We were overwhelmed by the number of people on Bacvice and I was kind of creeped out by it … there was a prepubescent child smoking a cigarette … so we went for a quick dip then headed down the coast a bit more.

We walked for maybe a mile and a half, stopping every few minutes at another swimming spot. Just like in Dubrovnik, the water was crystal clear and perfect for swimming. Croatian beaches are very rocky, so I would \bring water shoes in the future. I would look super lame, but it would save my poor, soft American feet.
After spending ample time in the sun and surf and enjoying a light lunch at some place I forgot the name of, we stopped by To Je To again for afternoon drinks. One turned into two, which turned into three or four, until we made our way back to the apartment for an afternoon nap. You'll notice we took a bunch of those during this trip …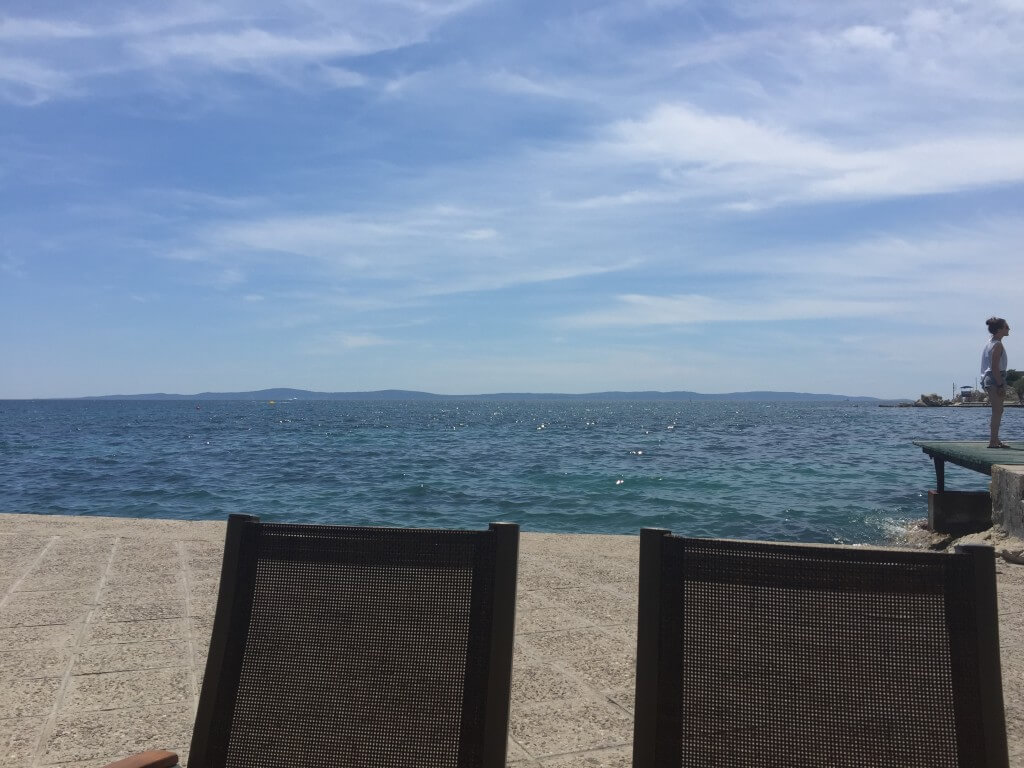 Having napped and cleaned up, we tried to get a seat at Konoba Matejuska but it was booked solid for the night. We ended up at Trattoria Tinel next door and I had a scrumptious plate of green pasta with seafood. Oh and guess where we ended up after that? You guessed it, back at To Je To for a night cap before saying goodbye to Split and tucking in for the night.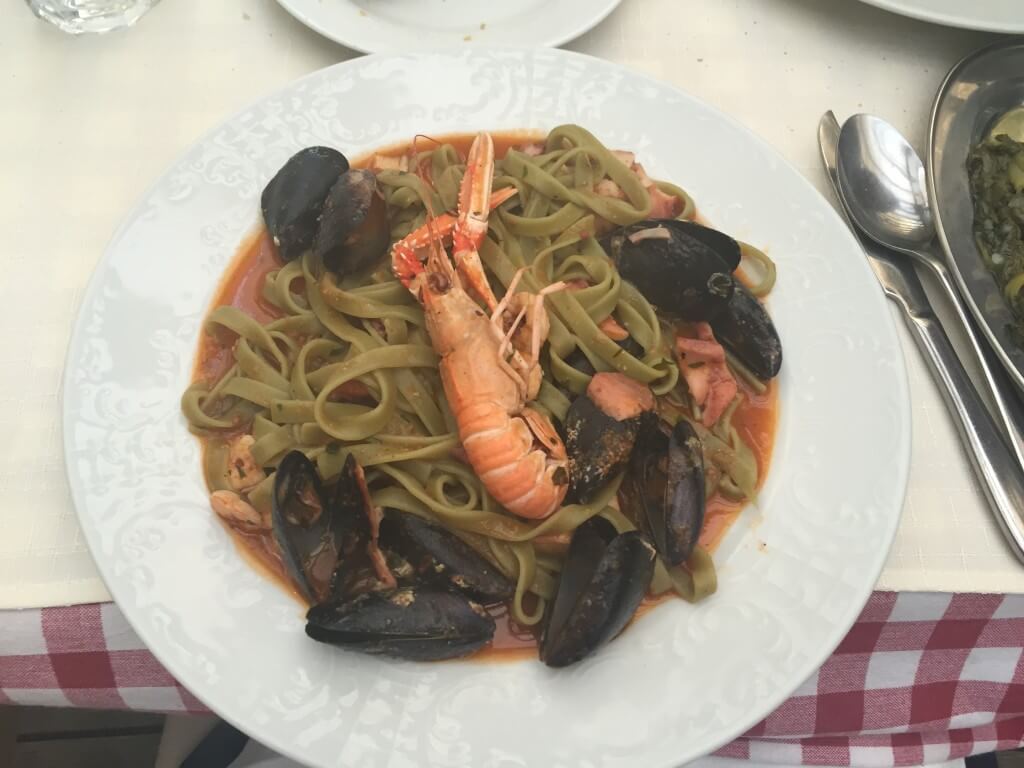 ---
June 30th – Goodbye Split
---
We woke up at the (vacation) crack of dawn, packed our bags and were on the road by 9AM. We were on our way to Rovinj, Croatia for the night with a stop at Plitvice Lakes Park for an afternoon of hiking. Onward!
---
Tell me: Have you ever been to Split before?
---